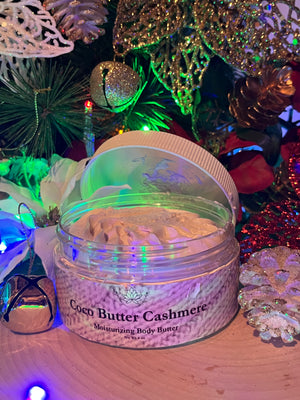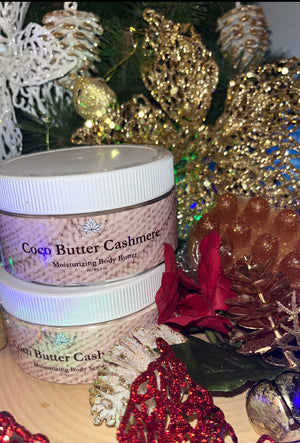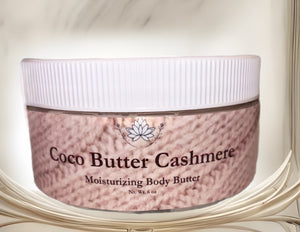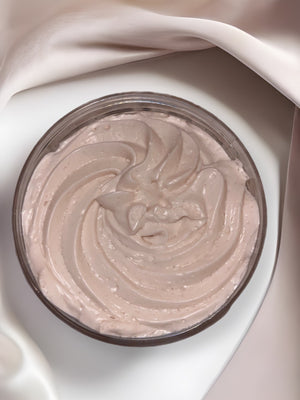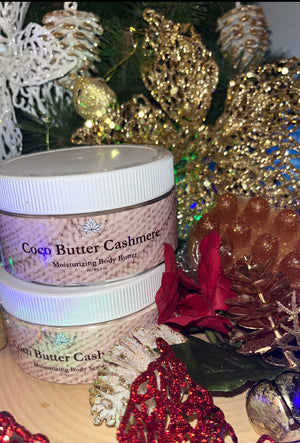 Coco Butter Cashmere Moisturizing Body Butter
Enter into Fall with this beautiful Coco Butter Cashmere Moisturizing Body Butter. A luxurious blend of nourishing butters and oils that deeply nourishes and hydrates your skin. Enriched with Shea and Cocoa Butters, this lightweight yet intensely hydrating body butter helps protect and soften skin. It also helps to reduce the appearance of dry, scaly skin. 
Notes: light spices, cedarwood, vanilla tonka, coconut, jasmine, olive wood, sandalwood, amber, musk, and cocoa butter.
Key Ingredients: Shea Butter, Vitamin E Oil, Sunflower Oil, Grapeseed Oil and Coco Butter. 
*All of our Body butters are 100% vegan plant base, contains no preservatives or water. 
Direction: After shower or bath, pat dry skin leaving your skin slightly wet then take a small amount of your body butter and apply all over the body. For best results use your favorite Whipped body scrub first to smooth your skin and get rid of any dry patches or dry flaky skin then moisturize your skin with your favorite body butter. Say an affirmation and relax.