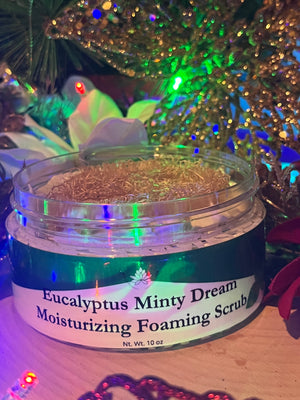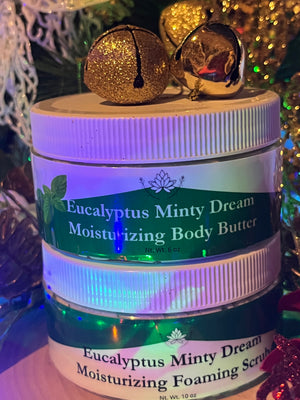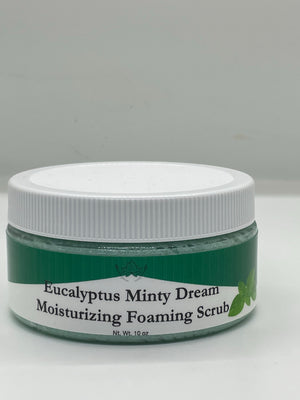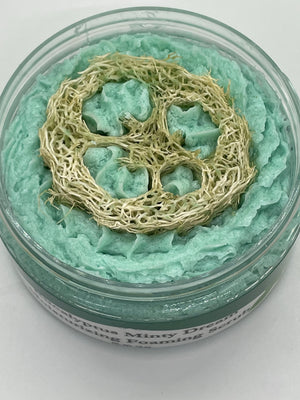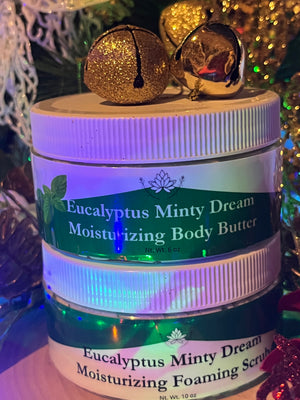 Eucalyptus Minty Dream Moisturizing Body Scrub
Just like the Eucalyptus Minty Dream Body Butter, this scrub brings you a sense of ease. Eucalyptus mint is known to relieves exhaustion, elevates mood, and rejuvenates the spirit, pair that with skin loving oils and butters you have something that will not only create a masterpiece on the outside, but it will uplift your spirit on the inside. 
All of our foaming scrubs contains Shea Butter, Coco butter, organic sugar cane, Jojoba oil and grape seed oil, avocado oil and sunflower oil. A Complete Vegan formula and Animal cruelty free. Revive the youthful glow you been missing.
Why do we love it:
Ease stress and tension.

Removes dry dead skin cells that clogs your pores.
Rejuvenate and boost circulation.
Reduces Cellulites
Contains anti-bacterial properties.
Gives skin a radiant glow.
Improves skin discoloration.
Improves skin elasticity. 

Moisturizes skin.
Great before shaving
Directions: Using the scoop included with your scrub, scoop out the scrub and rub onto your wet body in a circular motion. Rinse off and follow with your favorite body soap to make sure all is clean, rinse off and pat dry. Follow up with your favorite body butter.
Ingredients: Shea Butter, Coco Butter, Jojoba oil, Grapeseed oil, Avocado oil, Sunflower oil, Vitamin E oil, Organic sugar cane, natural mica and fragrance.
*** To help preserve a longer shelf life avoid getting water in your scrub. Use the scoop and store it in a cool dry area and keep the cover on when finish. 
***All products are handmade and packaged with care, because of this all products may vary in color and shape.
*** Keep away from children reach.
*** Our products are completely natural and should not harm your skin in anyway, however because everyone skin reacts differently, we suggest you do a skin patch test before use to check for sensitivity.