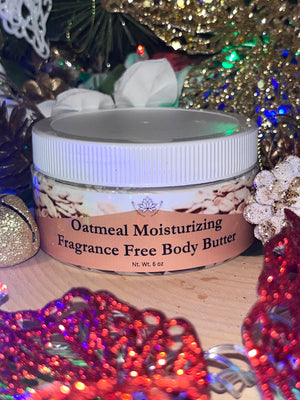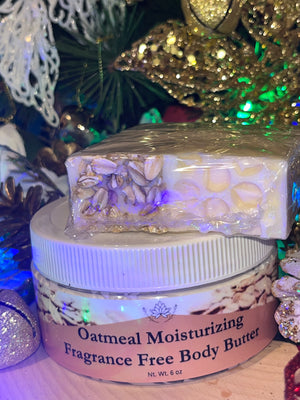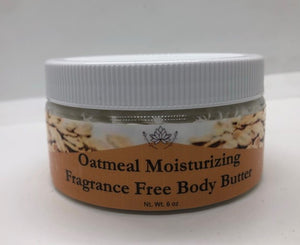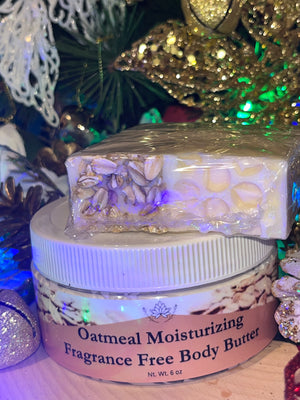 Oatmeal Moisturizing Body Butter (Fragrance Free)
This Body butter is formulated with sensitive skin in mind. Made with natural ingredients, this butter helps to sooth, soften and completely moisturize sensitive skin. Great for those cold winter nights when your body need some pampering and loving. This Oatmeal Body butter contains Colloidal Oatmeal Powder, Chamomile Extract, Shea butter, Coco butter Sunflower oil, Avocado oil, Jojoba oil, Grape seed oil and Vitamin E oil. A complete Vegan formula and Animal cruelty free.
What we love about it:
Condition and sooth your skin
Firms your skin and make it tight and nice.
Contains Anti-Inflammatory and healing properties.
Evens out skin tones.
Forms a protective skin barrier to keep moisture in.
non comedogenic (does not clog pores)
Protects skin from free radical damage. 
Very Moisturizing.
Directions:
Take a small amount and rub into your skin after your shower or bath. Your body butter may get a little hard or may melt due to weather changes. Do not be alarm, if it melts just put it in your fridge until is hardens up a little, on the other hand if it gets hard just rub into your hands and warm it up, it will melt right into your skin. 
***All products are handmade and packaged with care. 
*** Keep away from children reach.
*** Our products are completely natural and should not harm your skin in anyway, however because everyone skin reacts differently we suggest you do a skin patch test before use to check for sensitivity.